Private Offer To The First 500 Customers

Buy 1 Bottle Of Gluco Guardian and Get 1 Bottle FREE!

Today I have a great deal for you…

When you buy 1 bottles of Gluco Guardian, I am going to throw in an extra bottle absolutely FREE.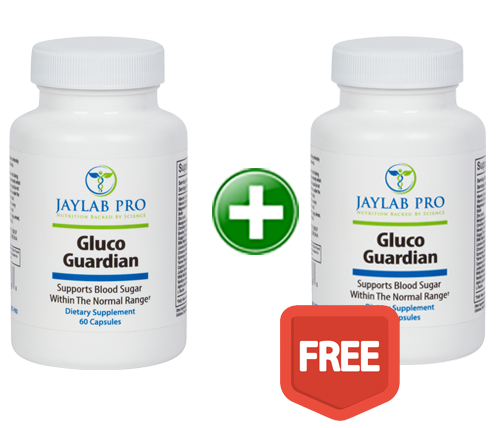 Gluco Guardian is not just another way to combat high blood sugar levels. It's a simple, daily solution to rapidly control your blood sugar levels…improve your health…and lose more weight and stubborn fat.

It's a unique blend of Mother Nature's most potent nutrient that help promote healthier blood sugar levels.

Powered by nutrients you already know—like Cinnamon, Bitter Melon, and Chromium Picolate—Gluco Guardian goes to work immediate lowering both blood sugar and insulin levels.

The result? Stable blood sugar…better health…reduced cravings…and a healthier and happier outlook on life.

Take Gluco Guardian if you've been struggling with uncontrolled cravings or high blood sugar symptoms for 3 months or longer.

One bottle of Gluco Guardian right now is going for $34.95. But today, we are going to give you 1 (one) bottle of Gluco Guardian "on the house" when you order in the next 24 hours. So you'll be paying just $34.95 for TWO bottles…plus, you will get FREE domestic shipping with each order.

Saving you a GRAND TOTAL of $34.95




What is Gluco Guardian?

There is a ride that most people go on every single day—but they don't know about it. It's called the blood sugar rollercoaster—and it's destroying your health.

If you're:
Angry

Feeling "heavy"

Warm all over—without doing any type of exercise

Heart feels like it's about to beat out your chest—but is slow at the same time

You're tossing and turn all night long

Feeling that "Foggy" feeling in your brain

Or maybe you feel like you're stuffed with "garbage or even asbestos"

Then there is a good chance you're on the ride right now—and your body wants to get off. Well…Gluco Guardian may be your gatekeeper to stopping the ride—once and for all.
You Get 14 Proven Nutrients Formulated Into One Powerful Blood Sugar Balancing Solution:
Blood Sugar Balancer #1: Cinnamon
Diabetics have been using cinnamon for years as a natural way to control blood sugar levels. Studies show that cinnamon – in healthy, pre-diabetics, and diabetics – may lower blood sugar levels in the body.
Blood Sugar Balancer #2: Gymnema Sylvestre
Native to the tropical forests of India and Sri Lanka, this herb yields a very sweet taste when chewed raw.
Its power for promoting healthy blood sugar levels fall in its ability to activate beta cells in the pancreas.
Some studies suggest this powerful herb may also help increase the production of insulin, therefore lowering your blood sugar levels.
Blood Sugar Balancer #3: Banaba
This ancient blood sugar balancer has been used in the Philippines for centuries as a treatment for diabetes.
Studies show Banaba contains a potent chemical – corosolic acid – which could prevent the breakdown of sucrose (sugar) in the body, effectively lowering blood sugar levels.
Blood Sugar Balancer #4: Bitter Melon
Studies show bitter melon may improve the production and secretion of insulin, perfect for supporting your body in balancing blood sugar.
Blood Sugar Balancer #5: Guggul
This potent tree resin does double-duty for your health, because it's primarily been used to lower cholesterol AND has shown potential to decrease plasma insulin levels and improve your glucose tolerance.
Blood Sugar Balancer #6: Chromium Picolinate
Shown to help shatter insulin resistance and improve glucose (sugar) metabolism.
Blood Sugar Balancer #7: Licorice Extract
Not to be confused with the candy, licorice extract has been shown to reduce blood sugar as well as reduce sugary cravings.
Studies show it may also reduce blood sugar levels, insulin levels, and fat levels in people with metabolic syndrome.
Blood Sugar Balancer #8: Yarrow
Studies with diabetics show Yarrow may lower elevated blood sugar and preserve glycogen levels. Additional research suggests it may also reduce oxidative stress in the pancreas.
Blood Sugar Balancer #9: Cayenne Pepper
Got this in your kitchen already?
Cayenne has been used for years to ignite weight loss.
One study showed that a meal with a mix of carbohydrates and capsaicin (an active component of chili peppers) lowered both blood sugar AND plasma insulin levels.
This lowering effect is thought to be due to the ability of cayenne to increase the tissue's sensitivity to insulin
Blood Sugar Balancer #10: Juniper Berry
Used for a number of different ailments and conditions for many years.
Studies show this potent berry may increase the utilization of sugar by your tissue and increase the body's natural insulin response and sensitivity.
Blood Sugar Balancer #11: Huckleberry
Proven in studies as benecial for controlling blood sugar.
In fact, one study showed that huckleberry—also referred to as bilberry—was able to slow digestion of starches, therefore lowering blood sugar.
PLUS, it may reduce the insulin response after eating a high starchy meal.
Blood Sugar Balancer #12: Vanadyl Sulfate
Research has found this nutrient to positively impact blood sugar levels by promoting reduced insulin and fasting blood sugar levels.
Blood Sugar Balancer #13: Alpha Lipoic Acid
A powerful antioxidant, Alpha Lipoic Acid (ALA) works to prevent cell damage that may occur in your body.
Studies show this antioxidant may improve insulin sensitivity, therefore allowing more uptake of sugar by your cells.
Blood Sugar Balancer #14: L-Taurine
When it comes to blood sugar maintenance, studies show that L-taurine helps by enhancing the uptake of glucose by red blood cells on the body.

Gluco Guardian may promote heathy blood sugar levels…better energy…stronger metabolism...and a lower risk for diabetes or heart disease.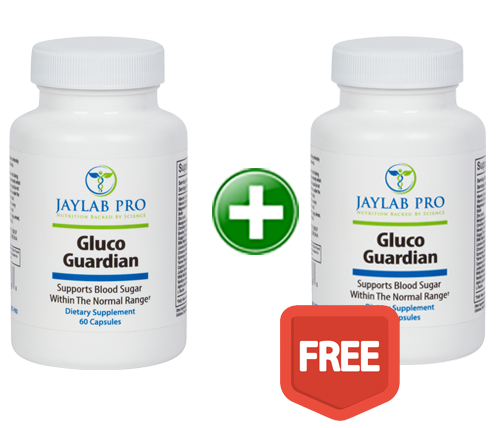 Buy 1, Get 1 FREE
ONLY $34.95 for two bottles of Gluco Guardian.
You'll be saving a whopping $34.95.
(Limit 1 (one) order per customer)


FAQs

How To Use:

Take 1 capsules daily wth your largest meal, or as directed by your doctor. Consume with 8-10oz. of water.

Daily Nutrition Facts:
A unique blend of 14 potent natural ingredients for promoting healthy blood sugar levels

Combats the dangerous side effects that can be associated with sugar

Could prevent excess sugar from being stored as fat--instead your body uses it for energy


Benefits:

Erase cravings and prevent the rush of sugar and insulin that ultimately leads to gains in body fat.

Dumps stored fat and ignites your metabolism.

Reduces the risk for life-altering diseases, like Diabetes, heart disease, or strokes.

Boost energy and stamina so you can tackle any project with ease.


Sharpens your memory and concentration.

Add more years of quality living to your life.





Here Is What A Customer Had To Say About Gluco Guardian: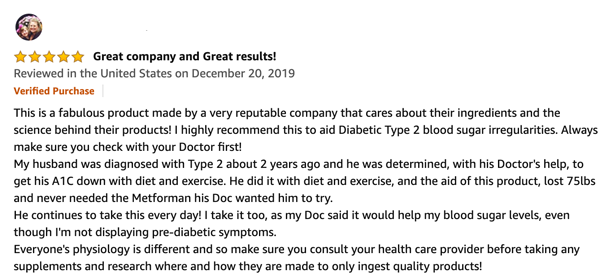 ---
Private Offer To The First 500 Customers

Buy 1 Bottle Of Gluco Guardian and Get 1 Bottle FREE!

Let's give you a quick recap…

First, today I am giving you the unique opportunity to get a 2-month supply of Gluco Guardian for the price of 1.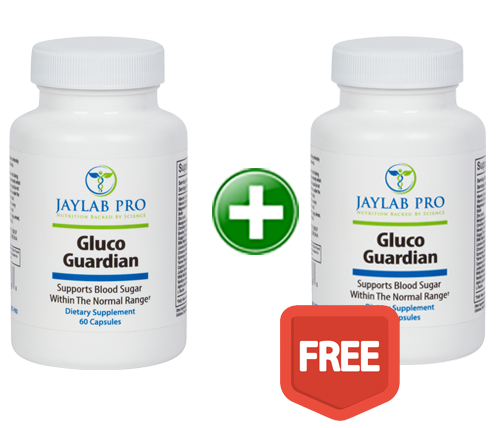 Not only are you going to be saving well over $34...you're also going to get 14 of the most powerful blood sugar support nutrients the world has ever seen. The fact is: You would be spending a good amount of money acquiring these nutrients by themselves. I am talking about hundreds of dollars.

But today, you can get all 14 nutrients in 1 easy-to-swallow capsule. No more fumbling in the spice rack to get your cinnamon and other blood sugar supporting spices. You can get them all in one place—with Gluco Guardian.

Now you'll be able to stabilize and control your blood sugar, therefore cutting down on cravings…increasing your metabolism…and exploding your energy levels.

It's time to dump all your other blood sugar support formula's—and get started with Gluco Guardian today.

But I do have to rain on your parade slightly…

This is a limited-time-only offer. Once you click your special, invitation-only link below, you will be taken to a secure ordering page where you can purchase your 2-month supply of Gluco Guardian for only $34.95.



GRAND SAVINGS TOTAL $34.95